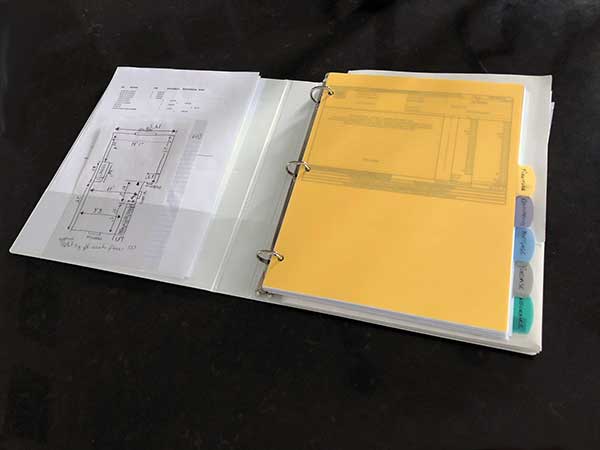 Congratulations! You've made the leap and bought a new home. Now what?


The next steps can be simultaneously exciting and overwhelming but the focus on organization is key to your success.
A reference book or binder can be a very useful method of organization to store all of your relevant documents, invoices, receipts, and business cards.
I have found that a thick three ring binder is incredibly useful for this purpose as you can easily add, subtract and reorganize documents. It will come in handy whether you plan to move again or stay at your new home forever.

You may use it to:
Reference the name of a company that worked on your house, for example who installed the banister or roof
Keep track of where and when you purchased a major appliance or piece of furniture
Record all quotes and final costs from contracted services or moving companies that were researched (this can be excellent for making recommendations to friends in the future)
Store documents from the home assessment, listing, survey or home inspection

Here are a few tips to get you started but after that, you should create sections or subsections that make the most sense to you.
You will need binder tabs to label the major sections for the different documents that you want to include. You can always add more sections later.
Some categories that I suggest:
Furniture
Appliances
House Purchase
Mortgage
Renovations
Moving Notes
Landscaping
Service Companies

Under each section you can add sub sections (with different types of tabs) for example:
Under house purchase you can add:

Survey
Home inspection
Property assessment
The original feature sheet or listing
Under renovations you might add:

Contractor
Permits
Architect
Engineer
Trades like plumbing or electrical
Handyman
Under services you might want:

Alarm company
Cable company
Utilities
Any contracts you may have with other suppliers
Landscaping may have:

Pool Company
Landscape architect and contractor
Snow removal
Gardener
Patio furniture purchase and repair
The front and back sleeves are useful for storing diagrams, photographs or any notes that you have that pertain to the property.
Business cards can be stapled to the applicable documents so that they are not lost and can be found easily.
Another helpful idea is to create a spreadsheet with all the costs for the initial purchase, the renovations, the purchases of furniture appliances and repairs along with the names of the companies, relevant dates subtotals and totals. That summary sheet could be kept in front for easy access.
I have found this type of binder to be an extremely helpful tool and I hope that you do too!